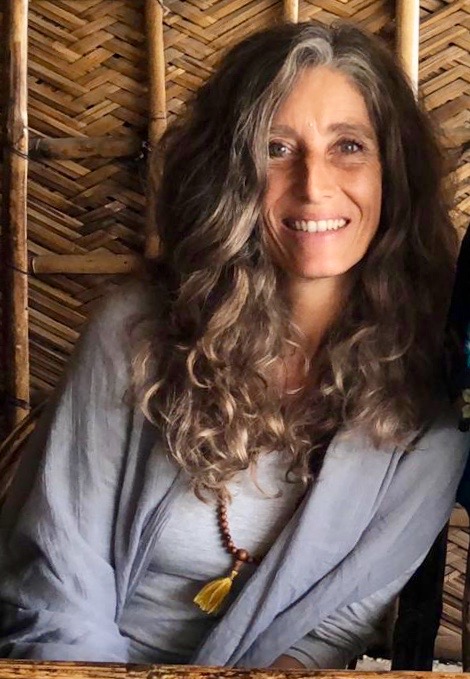 dipl. international Yoga & Dance Teacher
NAMASKAR
My spiritual name is Mahashakti, it means "great energy".
Teaching is my great passion.
I have been teaching dance lessons (jazz dance, street dance, salsa, bachata & kizomba) since 1992 and have been an internationally certified yoga teacher since 2012.
In 2016 I started my own yoga retreats.
I am mother of 3 wonderful grown-up children.
During my travels around the world I have learned from great, fantastic yoga masters such as Sivananda, White Ganga & Tracey Rich, Michael Steward, Pazit Barak & Kobi VT, Mittra and many more.
In 2019 I traveled alone through India for 3 months, from the north to the south. During this trip I met the famous internationally known Kundalini Yoga teacher Gurmukh on the street and she spontaneously invited me to visit her yoga center in the Himalayas, which I did.
My teaching style is Hatha, Vinyasa, Yin and Trapeze Yoga, Chakra Meditation, Pranayama and Mantra chanting.
My lessons vary and work wonderfully for newbies as well as advanced yogis.
I look forward to meeting you .
PEACE, LOVE & JOY
---
NAMASKAR
 Il mio nome spirituale è Mahashakti, significa "grande energia".
 L'insegnamento è la mia grande passione.
Insegno lezioni di danza (danza jazz, street dance, salsa, bachata e kizomba) dal 1992 e sono un'insegnante di yoga certificata a livello internazionale dal 2012.
Nel 2016 ho iniziato i miei ritiri di yoga.
Sono madre di 3 meravigliosi ragazzi adulti.
 Durante i miei viaggi in giro per il mondo, ho imparato da grandi, fantastici maestri di yoga come Sivananda, White Ganga e Tracey Rich, Michael Steward, Pazit Barak e Kobi VT, Mittra e molti altri.
 Nel 2019 ho attraversato l'India per 3 mesi, da nord a sud. Durante questo viaggio ho incontrato per strada Gurmukh, insegnante di Kundalini Yoga di fama internazionale, che mi ha invitato spontaneamente a visitare il suo centro yoga in Himalaya, cosa che ho fatto.
 Il mio stile di insegnamento è Hatha, Vinyasa, Yin e Trapeze Yoga, Meditazione dei Chakra, Pranayama e Mantra Chant.
Le mie lezioni variano e funzionano meravigliosamente sia per i neofiti che per gli yogi avanzati.
Non vedo l'ora di incontrarti ..
PACE, AMORE E GIOIA
---
NAMASKAR
Mein spiritueller Name ist Mahashakti, es bedeutet "große Energie".
Unterrichten ist meine große Leidenschaft.
Seit 1992 unterrichte ich Tanzlektionen (Jazzdance, Streetdance, Salsa, Bachata & Kizomba) und seit 2012 bin ich ein international zertifizierter Yogalehrer.
Im 2016 habe ich mit meinen eigenen Yogaretreats angefangen.
Ich bin Mutter von wunderbaren 3 erwachsenen Kinder.
Während meinen Reisen auf der ganzen Welt konnte ich von grossartigen, fantastischen Yoga-Meistern lernen wie Sivananda, White Ganga & Tracey Rich, Michael Steward, Pazit Barak & Kobi VT, Mittra und vielen mehr.
Im 2019 reiste ich 3 Monate durch Indien, vom Norden in den Süden. Während dieser Reise traf ich die international bekannte  Kundalini Yoga Lehrerin Gurmukh auf der Straße und sie lud mich spontan ein, ihr Yoga Zentrum im Himalaya zu besuchen, was ich tat.
Mein Unterrichtsstil ist Hatha-, Vinyasa-, Yin- und Trapez-Yoga, Chakra-Meditation, Pranayama und Mantra-Gesang.
Mein Lektionen variieren und funktionieren wunderbar für Neueinsteiger sowie fortgeschrittene Yogis.
Ich freue mich Dir zu begegnen..
FRIEDE, LIEBE & FREUDE 
---
Hi,
I'm Andrea and I will prepare the delicious vegetarian meals for you, from spicy to sweet.
I love natural food and details like the table decorations, sharing my cooking recipes and making people feel good.
I am mother of 2 teenage children.
I can't wait to spoil you with my delicacies ...
ALOHA
---
Salve,
sono Andrea e preparerò i deliziosi piatti vegetariani per voi,  dal piccante al dolce.
Amo il cibo naturale e dettagli come le decorazioni della tavola, condividere le mie ricette di cucina e far stare bene le persone.
Sono madre di 2 figli adolescenti.
Non vedo l'ora di viziarvi con le mie prelibatezze ...
ALOHA
---
Grüezi,
ich bin Andrea und ich werde die köstlichen vegetarischen Mahlzeiten für Euch zubereiten, von scharf bis süss.
Ich liebe natürliches Essen und Details wie die Tischdekoration, meine Rezepte zu teilen und Menschen sich Wohlfühlen zu lassen.
Ich bin Mutter von 2 Jugendlichen Kinder.
Ich kann es kaum erwarten, euch mit meinen Köstlichkeiten zu verwöhnen ...
ALOHA